History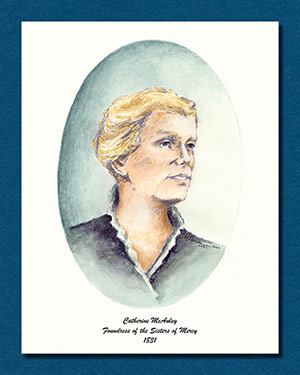 What began in 1831 with one woman in Ireland, Sister Catherine McAuley, became an international community of Roman Catholic women religious vowed to serve people who suffer from poverty, sickness and lack of education, with a special concern for women and children. Then and now, in both traditional and innovative ways, the Sisters of Mercy address human needs through collaborative efforts in education, healthcare, housing, pastoral and social services, and advocacy.
Sisters Have a Long History in the Bay Area
From the lovely Irish seaport town of Kinsale in 1854 came eight young Sisters to a far seaport, the City of San Francisco. It was a wildy colorful environment populated with gold prospectors, fortune hunters and many victims of opportunists. These eight Sisters began nursing and teaching within days of their arrival. They played important roles in some of the major events of early San Francisco. Because of their good works, the number of Sisters in the Bay Area grew.
| | |
| --- | --- |
| 1855 | Providing round-the-clock care in the County hospital during the cholera epidemic. |
| 1857 | Establishing St. Mary's Hospital, the first Catholic hospital west of the Mississippi. |
| 1868-1869 | Nursing and calming patients during the black pox epidemic. |
| 1906 | Setting up a tent hospital in Golden Gate Park after the earthquake. |
Mercy Sisters Came to Burlingame in 1924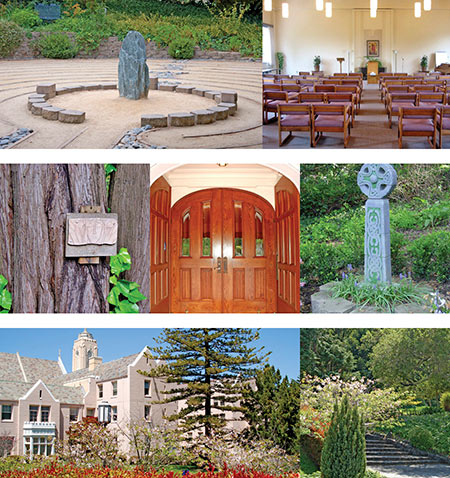 In 1924, the Sisters of Mercy bought the Kohl Estate in Burlingame to serve as the Motherhouse for their growing Community. They have been present on the 40-acre site ever since, continuing the good works that began when those first Sisters docked in San Francisco:
Building a new Motherhouse on the site, opening Mercy High School Burlingame in the Kohl Mansion in 1931. Mercy High School San Francisco was opened in 1952.
Founding a Peru Mission in 1964. It grew and became Its own Mercy region in 2002.
Opening a retreat and conference center in a portion of the Motherhouse in 1981. Over the years, Mercy Center, has become internationally-recognized for its spiritual programs.
Mercy Sisters Continue to Contribute so Much More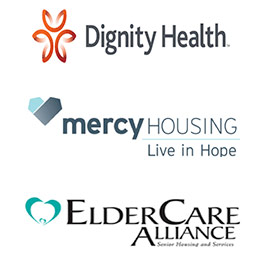 Co-establishing Catholic Healthcare West (CHW) in 1986. CHW would then become Dignity Health in 2015, providing healthcare through its group of 39 hospitals and over 400 care centers throughout the Western United States.
Co-sponsoring Mercy Housing, helping provide quality, affordable, service-enriched housing for the economically poor in nationwide.
In 1871, the Sisters opened Our Lady of LaSalette Home for the Aged and Infirmed Females in Oakland, which later became Mercy Retirement and Care Center for both women and men. In 1997, Mercy affiliated with Salem Lutheran Home to develop a network of faith-centered elder care programs in California – today known as ElderCare Alliance.
There have been a few changes on the Burlingame campus over the years. Along with the Motherhouse building, now known as the Mercy Convent/Mercy Center building, a high school wing was built adjacent to the Kohl Estate in 1931. The Russell Hall building was built in 1963 as a college for Sisters, later becoming the first central office for Catholic Healthcare West, now Dignity Health. Today, Russell Hall is shared by the Sisters of Mercy administration and Mercy High School Burlingame. In 1974, Mercy constructed a residence on campus to care for retired Sisters, now called Marian Oaks Life Care Center.